Wedding season is upon us, and with it comes the age-old question: what to gift the happy couple without breaking the bank? Luckily, plenty of thoughtful and unique wedding gifts are available for under $50 that will surely impress and be appreciated.
In this article, we'll explore affordable wedding gifts that don't compromise quality or sentiment. From meaningful keepsakes to practical necessities, there's something for every couple and every budget. Stay tuned to discover gifts that will make a lasting impression without leaving a dent in your wallet.
So, as you search for the perfect wedding present, rest assured that there are fabulous options for all tastes and styles that won't require breaking the bank. Let's dive right in and find that ideal gift!
Wedding Gifts Under $50
Finding the perfect wedding gift can be challenging, especially on a budget. Fear not, as plenty of practical and creative options are available within the $50 price range. This section highlights some affordable gift ideas, specifically focusing on kitchen essentials.
Kitchen Essentials
One can never go wrong with practical kitchen gifts that the couple will use regularly. These items combine both functionality and affordability.
Dutch Oven: A versatile piece of cookware that is perfect for soups, stews, and roasting. There are many options under $50, such as the Lodge Enameled Cast Iron Dutch Oven.
Nordic Ware: Known for its high-quality bakeware, Nordic Ware offers a range of products that make great wedding gifts. For instance, a sturdy aluminum baking sheet or a classic Bundt pan can elevate the couple's baking game.
Cookbook: A well-selected cookbook is always appreciated, introducing the newlyweds to new recipes and techniques. Choose a cookbook that aligns with the couple's culinary interests or features essential meal ideas for two.
In addition to these gift ideas, consider checking the couple's wedding registry for kitchen essentials they might have listed. This ensures that your gift is both useful and appreciated.
With a wide variety of kitchen items under $50, finding a thoughtful and practical wedding gift that won't break the bank is possible.
Name Change Services
One thoughtful option for wedding gifts under $50 is to provide newlyweds with a name change service. These services make updating a last name after marriage much simpler and more organized.
Easy Name Change is a popular option in this category. For less than $40, you can provide the couple with a print-at-home kit that includes personalized state and federal forms and instructions on how to fill them out and submit them. This budget-friendly gift will save the couple time and stress, making their name change process straightforward and hassle-free.
Another reputable name change service is HitchSwitch. Their affordable packages start at $39 for an online service, which provides users with a step-by-step guide on legally changing their names. It also offers automated completion of the necessary forms and email and chat support for any questions that may arise during the process.
Easy Name Change and HitchSwitch emphasize their dedication to simplifying the name change process for newlyweds. By offering clear instructions and easy-to-use tools, couples can focus on building their lives together rather than dealing with confusing paperwork.
A name change service is a considerate and practical wedding gift option under $50. With choices like Easy Name Change and HitchSwitch, couples will appreciate the support and ease provided as they take on their new, shared last name.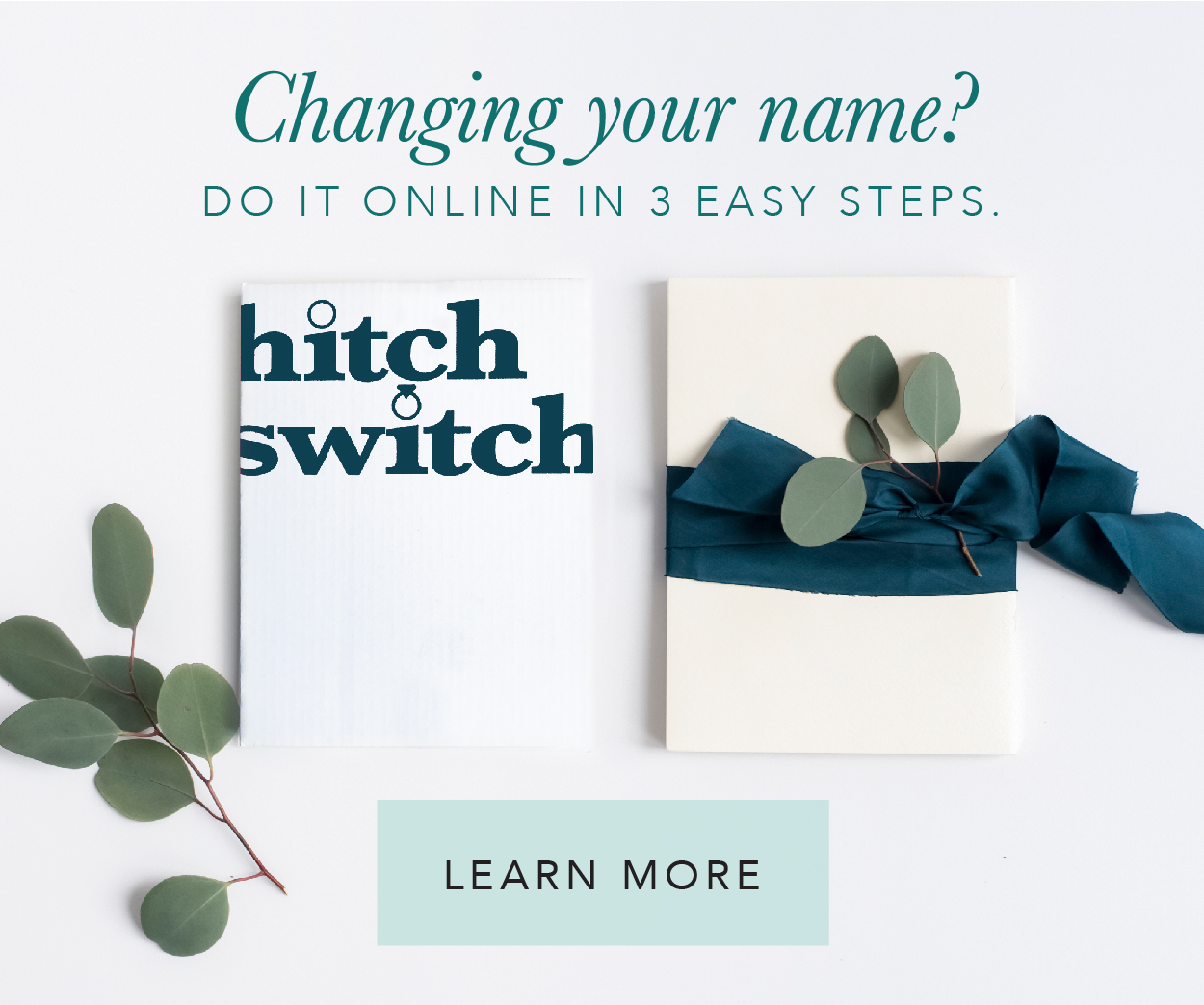 Personalized and Monogrammed Gifts
Personalized and monogrammed options are always a hit when finding unique and affordable wedding gifts. These gifts show thoughtfulness and a touch of style, making them perfect for any couple.
Etsy Finds
Etsy is an excellent platform for finding high-quality personalized and monogrammed wedding gifts under $50. Some popular options available on Etsy include:
Personalized Picture Frames: A customized picture frame is both heartfelt and practical. You can find beautifully crafted frames to engrave the couple's names, wedding dates, or special messages.
Monogrammed Towels or Linens: Adding a monogram to towels, bed linens, or kitchen accessories is a stylish and functional gift. Couples will appreciate the special touch of having their initials elegantly embroidered on everyday items.
Customized Throw Pillows: A personalized throw pillow is a cozy and attractive addition to the newlyweds' home. You can choose from various designs, colors, and text options to create a one-of-a-kind gift.
Custom Art: A personalized piece of art can be a memorable and lasting gift. Etsy offers various options, such as custom prints or unique painting styles with the couple's initials or names incorporated into the design.
When shopping for personalized and monogrammed wedding gifts on Etsy, paying attention to the item's reviews for quality assurance is crucial. Also, consider shipping times, as custom orders may take longer to create and deliver.
In conclusion, personalized and monogrammed wedding gifts are an excellent way to offer a unique, thoughtful, and affordable gift to the happy couple. Turning to platforms like Etsy makes it easy to find high-quality options under $50 that will be cherished for years to come.
Entertaining and Dining
Glassware
Regarding entertaining and dining, glassware is an essential yet affordable wedding gift. You can consider gifting sets of elegant wine glasses, champagne flutes, or whiskey tumblers for under $50. These functional and beautiful gifts will surely be used during the couple's dinner parties and celebrations. Some popular glassware options that fit the budget include:
Wine glasses: Set of 4 for $20
Champagne flutes: Set of 6 for $35
Whiskey tumblers: Set of 2 for $15
Tableware
In addition to glassware, thoughtfully selected tableware makes for great wedding gifts under $50. Look for stylish ceramic or porcelain dinner plates, salad plates, or bowls for the newlyweds. Features such as durability, elegance, and everyday use should be considered when choosing these items. Here are some examples of budget-friendly and attractive tableware sets:
Dinner plates: Set of 4 for $25
Salad plates: Set of 4 for $20
Bowls: Set of 4 for $15
Trays and vases are also excellent options for entertaining and dining wedding gifts. A decorative serving tray can be a conversation starter during a dinner party, while a beautiful vase can elevate any table setting with its fresh, floral touch. Check out these budget-friendly trays and vases:
Wood serving tray: $30
Ceramic vase: $20
Focusing on the essentials in glassware and tableware and keeping an eye out for quality and affordability makes it possible to find tasteful and practical wedding gifts under $50 that any couple would be happy to receive.
Home and Decor
When looking for wedding gifts under $50, the Home and Decor category offers a wide range of affordable and thoughtful options. From bed and bath linens to other decorative pieces, you can find something that suits the newlyweds' tastes and preferences.
Bed and Bath Linens
Handmade Bed Linens: Handcrafted bed linens offer a personalized touch to the couple's bedroom, and they come in various designs, colors, and materials. Choose from pillowcases or duvet covers to match the couple's taste.
Doormat: A stylish doormat can be both practical and decorative, providing a warm welcome to the newlyweds' home. Numerous options are available, including custom designs that feature the couple's initials or last name.
Blankets: Cozy and soft, blankets are a versatile gift for couples to use in their bedroom or living room while cuddling up. Look for ones with various textures and colors to complement their home's style.
Candles: Add a touch of romance to the couple's space with scented candles. They come in various sizes and fragrances, and some feature unique designs or can be personalized with the couple's names or wedding dates.
Towels: A set of high-quality towels, be it for the bathroom or kitchen, is a practical gift idea that the newlyweds will appreciate. Look for soft, absorbent ones in various colors and patterns to match the couple's home decor.
Jewelry Box: Help the couple organize their precious accessories by gifting them a stunning jewelry box. It can be a simple design or something more elaborate with multiple compartments and sections for different types of jewelry.
While there are endless possibilities for wedding gifts under $50 in the Home and Decor category, these recommendations provide a starting point to find the perfect present for the happy couple. Remember that thoughtful, personalized options will always be cherished and appreciated.
Gift Cards and Experiences
Amazon Gift Cards
Gift cards are popular for wedding gifts, especially within a budget. A gift card from Amazon can be an excellent option for couples. It allows for flexibility in choosing items that suit their tastes and needs.
One great advantage of giving an Amazon gift card as a wedding gift is the wide selection of products available. Couples can use their card to purchase anything from practical items, like a quality camera for capturing their honeymoon memories, to more unique and personal gifts.
The affordability of an Amazon gift card makes it an ideal gift within a $50 price range. Environmental-minded guests may appreciate this option for its low impact on the environment, as gift cards don't generate waste or require transportation when purchased online.
For couples who enjoy experiences more than material items, an Amazon gift card can be applied to various experiences. These can be shared, such as cooking classes, DIY project supplies, or individual activities contributing to their relationship's growth.
In summary, a gift card from Amazon is an effective choice for wedding gifts under $50, catering to diverse preferences and allowing couples to select items that match their desires and interests.
FAQs
What are some affordable wedding gift ideas under $50?
There are plenty of thoughtful and budget-friendly wedding gift options available. Some popular choices include:
Personalized items, such as photo frames or engraved glassware
Home décor items, like throw pillows or wall art
Kitchen gadgets and tools, such as a French press or a set of quality knives
Subscriptions for streaming, magazines, or gourmet food boxes
Is it acceptable to give a gift valued at less than $50?
Yes, it is perfectly acceptable to give a wedding gift that costs less than $50. The most important aspect of a wedding gift is the thought behind it. A heartfelt and meaningful present will be appreciated regardless of its cost.
Do I need to purchase a gift for the wedding if I already bought one for the bridal shower or bachelorette party?
In most cases, it is customary to give separate gifts for pre-wedding events and the actual wedding. However, if you find it difficult to manage multiple gifts, consider splitting the cost of a more expensive item between the events, or check with the couple about their preferences.
What if I can only afford a small gift, but the couple has an expensive registry?
Don't feel pressured to buy something beyond your budget. Couples understand that not everyone can afford high-priced items. Opt for a more affordable option, such as a group gift with other guests, or choose something meaningful and personal that fits within your financial constraints.
How can I make an inexpensive wedding gift feel more special?
Presentation and personalization can make a significant difference when giving an affordable wedding gift. Consider adding a thoughtful note, choosing unique wrapping paper, or finding a creative way to demonstrate how the gift can reflect the couple's personalities or interests.