.

Are you looking to create a logo for your business but don't know where to start? Fiverr Logo Design is an excellent option that offers affordable and professional designs. With this service, you can find the perfect designer who will help bring your vision to life without breaking the bank. You'll learn about all of the benefits of using Fiverr Logo Design, how to choose a designer on their platform, what kind of design work you should expect from them, tips for working with your designer effectively, and much more. Plus, get answers to questions like "how much does Fiverr logo design cost?" or explore alternative services available.
Table of Contents:
What is Fiverr Logo Design?
Fiverr logo design is an excellent way for entrepreneurs to get a professional-looking logo designed for their business at an affordable price. Fiverr is an online freelancing platform that connects businesses with experienced designers who can create custom logos and other graphics.
The process of ordering a logo on Fiverr is straightforward, you review freelancers' "gigs" and purchase the service. Fiverr is arranged as a productized service.
Once payment has been made, the designer will begin creating your unique logo according to your specifications. Depending on how complex the job is, it usually takes between 1–2 weeks for completion; however, some jobs may take longer depending on how detailed they are or if the client requests revisions during this time frame. When finished, clients receive digital files (such as .jpg) and vector files (.eps).
Fiverr Logo Design is an easy and affordable way to get a professional logo designed for your business. For a faster and more frictionless experience, you can purchase a logo from Fiverr directly.
Key Takeaway: Fiverr logo design is an affordable and efficient way to get a professional-looking logo. It involves selecting a designer, providing them with information, and making payments via PayPal or credit card. Clients receive digital files such as .jpg and vector files like .eps upon completion of the project.
Fiverr Logo Maker
What is Fiverr Logo Maker?
Fiverr Logo Maker is an online platform that allows entrepreneurs to create professional logos for their businesses. The service offers a wide range of design options, from simple text-based designs to more complex graphics and illustrations.
With Fiverr Logo Maker, users can quickly and easily create a logo that reflects the brand identity they want to convey.
Benefits of Using Fiverr Logo Maker
Using Fiverr Logo Maker has several advantages over traditional methods of logo creation. First, it's fast and easy – users can get started in minutes without prior experience or knowledge of graphic design software.
Second, it's affordable – most packages start at just $5 per logo!
Finally, the quality of the end product is high – logos created with Fiverr are designed by experienced professionals who understand how to make them look great on all types of media platforms.
How Does It Work?
The process for creating a logo with Fiverr is straightforward and user-friendly. After signing up for an account, users select one of the many available templates or upload their artwork if desired.
They then customize their chosen template using features such as color selection, font selection, size adjustment, and other customization tools provided by the platform.
Once satisfied with their work, they submit it for review before downloading their final product in various formats (JPEG,PNG,PDF).
Is It Worth It?
For entrepreneurs looking to establish themselves professionally while keeping costs low simultaneously – absolutely!
Using Fiverr saves time and money compared to hiring a designer or agency directly; plus, you get access to thousands of pre-made templates, so you don't have to worry about starting from scratch every time you need a new logo!  With the benefits of using Fiverr Logo Design, you can create a great-looking logo that will help set your business apart from the competition.
Benefits of Using Fiverr Logo Design
Using the Fiverr logo design is an excellent way for entrepreneurs to save time and money. Instead of spending hours designing the logo or hiring an expensive professional designer, they can get a high-quality logo quickly and easily.
One of the biggest benefits of using Fiverr is that it offers thousands of talented designers worldwide who specialize in creating logos. This means you have access to more options than if you were to hire just one designer locally. You can also find experienced professionals who understand branding, color theory, typography, and other important aspects of graphic design.
Fiverr also allows you to compare designs to ensure your logo looks exactly how you want it before making any payments. With its affordable pricing structure, entrepreneurs don't need to worry about breaking their budget when getting a new logo designed for their business.
Another advantage of using Fiverr is that most designers offer unlimited revisions until the customer is delighted with their design. This means there's no risk in trying out different ideas until you find something perfect for your brand identity. Plus, many designers are willing to work closely with customers throughout the entire process—from initial concept sketches through final delivery—to ensure they get exactly what they want in terms of style and quality.
Finally, since all transactions on Fiverr are handled securely online via PayPal or credit card payment processing services like Stripe or Braintree, entrepreneurs don't need to worry about any potential security risks associated with traditional methods such as cash payments or bank transfers. Thus, businesses save time and money when ordering logos on Fiverr while also benefiting from increased safety measures during payment processing.
Using Fiverr for logo design offers many benefits, such as cost-effectiveness and access to talented designers. Now let's look at how to choose the right designer on Fiverr.
Key Takeaway: Using Fiverr for logo design is a great way to save time and money, with access to thousands of talented designers worldwide. Plus, you can get unlimited revisions and secure payment processing for added safety.
How to Choose a Designer on Fiverr
When choosing a designer on Fiverr, you want to ensure you get the best logo design for your business. To do this, read reviews and check out their portfolio before deciding. Reviews can give you an idea of the designer's reliability and professionalism. Look at their portfolio to understand what kind of designs they create and if they have experience creating logos for businesses like yours.
Communication is critical when selecting a designer on Fiverr. Make sure you are clear about what type of logo design you are looking for so the designer can create something that meets your needs. Provide as much detail as possible such as colors, fonts, images, or any other elements that should be included in the logo design. This will help ensure that both parties understand each other's expectations from the beginning which will save time and money down the line.
It's also important to ask questions about pricing upfront so there aren't any surprises later in the process. Most designers offer packages with different levels of service based on budget size, so find out what options are available before committing to anything long-term or expensive projects without knowing all details firsthand.
Finally, don't forget to review samples provided by potential designers before making a final decision – even if it means taking extra time during your search process. A sample should give insight into how well they understand your vision and whether they have successfully created similar logos in past projects, giving you peace of mind when hiring them for future work.
Choosing the right designer on Fiverr is critical to a great logo design. With these tips in mind, you can confidently move forward and understand what you should expect from your logo design.
Key Takeaway: When selecting a logo designer on Fiverr, read reviews, check out their portfolio, communicate your expectations clearly, and ask questions about pricing upfront. Review samples to ensure the designer can meet your vision before deciding.

What You Should Expect from Your Logo Design
Your logo is the face of your business, so it's essential to ensure that you get it right. When designing a logo, certain expectations should be met for it to be successful.
First and foremost, your logo should be unique and represent your brand effectively. It should stand out from other logos in the same industry and communicate what your company stands for. This can be achieved by using colors, shapes, symbols, or fonts that reflect the values of your business. Additionally, you want to ensure that any images used are relevant to what you do as a company and don't look too generic or dated.
Another critical element of a successful logo design is its recognizability factor – how easily can people recognize and remember it when they see it again later on down the line? To achieve this goal, keep things simple; avoid overly complex designs with too many elements, as these will only confuse viewers rather than help them identify who you are at first glance. Your logo should also remain consistent across all platforms – whether online or offline – so people always know who they're dealing with no matter where they encounter your brand name or image.
Finally, aesthetics play an essential role in creating an effective logo design; not only does it need to convey meaning, but it also appeals visually to potential customers or clients at first sight. Make sure that any chosen colors match up well while still being appropriate for the target audience (e.g., bright colors may work better for children's products than more muted tones). Additionally, consider if any particular font styles would work best given what type of product/service you offer – bolder fonts tend to give off more energy. In contrast, softer ones evoke tranquility depending on their usage context.
When selecting a logo design, it is essential to consider what you want your logo to communicate and how it will represent your business. With the right designer, you can expect a professional, eye-catching logo that captures the essence of your brand. Now let's look at some tips for working with your designer.
Key Takeaway: A successful logo design should be unique, recognizable, and aesthetically pleasing. To achieve this goal, use relevant images and colors representing your brand values, keep the design simple yet memorable, and choose a font style appropriate for your product service.
Tips for Working with Your Designer
Knowing what you want is essential when working with a designer to create your logo. Ensure you understand your brand identity well and what kind of message you want to convey through your logo design. Communicate this clearly with your designer so they can better understand how to bring your vision to life.
Provide feedback throughout the process as well. This will help ensure that the final product is exactly what you had in mind when starting. If something isn't right, let them know and provide constructive criticism rather than just telling them it's wrong without any explanation or direction on how to fix it.
Make sure you are happy with the final product before paying for it. Don't settle for anything less than perfect. Ask questions if something is unclear or if any changes need to be made before signing off on the project. When creating a logo design for your business, your satisfaction should always come first.
By following these tips, you can ensure that your logo design project is a success and that you get the most out of working with your designer. Now let's look at how much Fiverr logo design typically costs.
Key Takeaway: When creating a logo design, be clear about your brand identity and provide feedback throughout the process. Make sure to ask questions if something isn't quite right before signing off on the project, and ensure that you are happy with the final product.
How Much Does Fiverr Logo Design Cost?
The cost of a Fiverr logo design varies depending on the complexity of the design and how many revisions are needed. Still, most plans start at $5 per hour or $50 per project (depending on the package chosen).
For example, if you need a simple one-color text-only logo with no graphics or icons, you can expect to pay around $5-$10. If your needs are more complex—such as an intricate multi-colored graphic with multiple elements—then prices will be higher. You should also factor in additional services, such as file conversion and vectorization, which may add extra costs.
It's important to note that Fiverr offers different packages for their logos ranging from basic ($5) up to premium ($50+). Depending on what type of logo you need and how much customization is required, choosing the package that fits your budget and requirements is best. For instance, if you only require minor changes like color adjustments or font tweaks, then opting for a basic package might be enough; however, if you need something more detailed like adding icons or illustrations, then going for a premium package would be better suited.
Another thing worth considering when choosing your designer is their portfolio – make sure they have experience creating logos similar to yours so that they can provide quality work within your budget constraints. Additionally, read through reviews left by previous customers before making your decision – this will give you an idea of what kind of service they offer and whether they meet expectations in terms of turnaround time and customer satisfaction levels.
Finally, remember that communication is key when working with designers; make sure both parties understand each other's expectations clearly so there are no misunderstandings during the process. With these tips in mind and some research into pricing options available on Fiverr Logo Design services, finding an affordable, high-quality solution should not be too difficult.
Fiverr logo design can be an excellent option for entrepreneurs looking to save money on their branding, but other options may offer more value. Next, we'll explore some alternatives to the Fiverr logo design.
Key Takeaway: When looking for a Fiverr logo design, consider factors such as the complexity of the design, revisions needed, package chosen, and designer portfolio. Additionally, ensure clear communication with your designer to avoid misunderstandings.

Alternatives to Fiverr Logo Design
Many options are available if you're looking for an alternative to the Fiverr logo design. Upwork is a great place to find experienced designers specializing in creating logos for businesses at different price points. On Upwork, you can search through portfolios and reviews to find the right designer for your project. You can also post job descriptions and set your budget so only designers within that range will apply.
99designs is another popular platform for finding logo designs. This site offers a variety of packages ranging from basic designs to more complex ones, with multiple revisions included in the cost. With 99designs, you get access to hundreds of talented designers who compete against each other by submitting their best work based on your brief or criteria provided by you.
You could also consider working with independent freelancers directly via sites like Freelancer or PeoplePerHour, where you can browse profiles and portfolios before deciding which one fits your needs best. These platforms allow clients to contact freelancers directly, negotiate rates according to their budgets, and review ratings from previous employers before making any decisions about hiring them.
Finally, if none of these options appeal to you, then it might be worth considering using a local graphic designer instead. This way, not only do they have direct experience working with businesses in your area, but they may also be able to offer better rates due to lower overhead costs associated with running their business locally rather than online.
Key Takeaway: When looking for an alternative to Fiverr logo design, there are plenty of options: Upwork, 99designs, Freelancer, PeoplePerHour, and local graphic designers. Each option has advantages, so consider the budget range and experience level before deciding.
FAQs
Is Fiverr worth it for logo design?
It depends on the individual situation. Fiverr can be an excellent option for logo design if you are looking for a low-cost, quick solution. However, it may not be the best choice if you need more customization or require higher-quality work. It is essential to research and compare different options before deciding to ensure that you get the best value for your money. Ultimately, it comes down to what works best for your business needs and budget.
How much does Fiverr charge for a logo?
Fiverr is an online marketplace for freelancers and businesses. Logo design services are available on Fiverr, with prices starting at $ 5. However, the actual cost of a logo will depend on the complexity of the design and any additional features requested by the customer. For example, some logo designs may require more revisions or extra elements, such as illustrations or animation, which can increase the overall cost. Generally speaking, most basic logos should be within the $50 to $100 range when purchased through Fiverr.
Can I create my own logo on Fiverr?
Yes, you can create your logo on Fiverr. It is a platform that allows freelancers to offer their services in exchange for payment. You can find experienced graphic designers who specialize in creating logos and other visuals for businesses. All you need to do is provide the details of what you want, agree on a price with the designer, and they will get to work creating your logo. Once it's finished, you'll have an original design that perfectly fits your business needs.
Is Fiverr logo maker legit?
Yes, Fiverr logo maker is a legitimate service. It offers high-quality designs from experienced professionals at an affordable price. The platform also allows customers to customize their logos and make revisions until they are satisfied with the results. Additionally, Fiverr has a user-friendly interface that makes it easy for users to create their unique logo quickly and efficiently. Overall, the Fiverr logo maker is an excellent choice for entrepreneurs who create professional logos without breaking the bank.
Conclusion
In conclusion, Fiverr Logo Design is an excellent option for entrepreneurs looking to get their businesses off the ground with an eye-catching logo. With its affordable prices and wide selection of designers, you can find the perfect designer to create your ideal logo. Remember to be clear about what you want from your designer and communicate regularly throughout the process. That way, you'll have a logo that perfectly captures your brand identity without breaking the bank.
Are you looking to start and run a successful business? Do you need help creating an eye-catching logo to make your brand stand out? Look no further than Fiverr for all of your logo design needs. With thousands of talented designers, competitive prices, and quick turnaround times – Fiverr is the perfect solution to ensure your company has a unique identity. Don't wait any longer – get started today!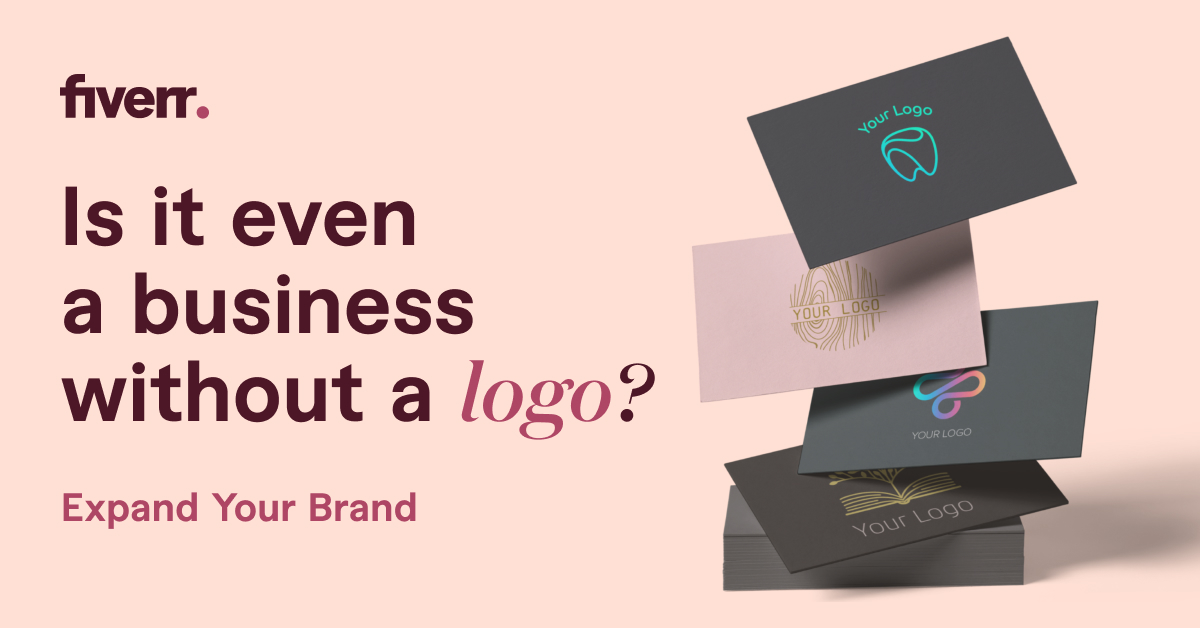 Set Your Business Up For Success
Want to make this your most successful year yet? Make sure to cover all your bases. Focus on what you do best and find experts for all of the rest. Fiverr is a great place to find professional help in every field imaginable. Have countless to-dos? Fiverr's freelancers can be counted on to do them all. On time and on budget.

Wondering where to start? Here are your 3 steps to business success:
1. Build a Better Brand
Want a brand that earns your customers' trust and loyalty? Don't confuse them with a bland brand.
Create a standout brand across every aspect of your marketing: Brand your logo, your website, your app, your social media.
You get the picture. (but make sure that picture looks good)
Get a world-class logo design

Design your social media to reflect your brand

Tailor your web and mobile design to fit your brand
2. Grow Your Customer Base
They're not going to walk in your door if they don't know who you are. Catch them while they're browsing the Internet at home. Pop up on mobile while they're walking around town. Whatever it takes to reel them in.
Pump up your presence online with these easy fixes:
Boost your social media marketing (SMM): Target your ideal customers and appear in their social media feeds.

Level up your search engine marketing (SEM): Pop to the top of the search results with your targeted ads.

Step up your SEO: Rank first on Google search results and get the attention your brand deserves.
3. Stay Ahead of Your Digital Game
To keep pace with the latest digital trends, you have to keep up with the times. This means you need to give your users what they demand.
Constant content updates: Who wants yesterday's news?
Short, engaging videos: Your customers crave them.
Seamless user experience (UX): Because no one wants to waste time looking around your site for info when they can find it elsewhere faster. A clean, user-friendly user interface (UI) can clean out the clutter and make your users even more engaged.
Stay ahead of the pack with:
Website Content

Short Video Ads

WordPress Site Building
Everything your business needs is just 3 steps away!
Learn more about how to build and grow your business with
Fiverr Business Guides.